New Build
poems and stories
scroll down to read poems and stories in our
Summer Issue
growing weekly from July to September 2020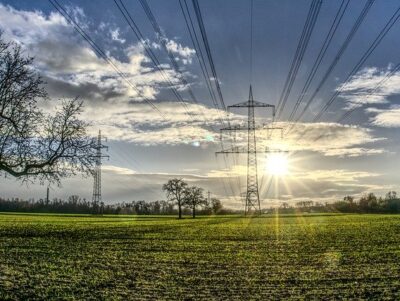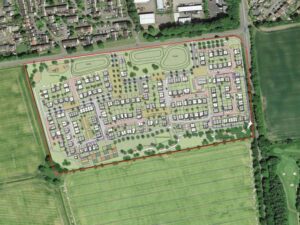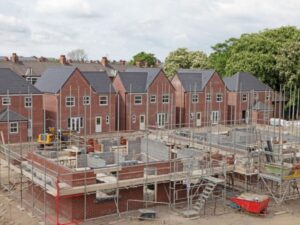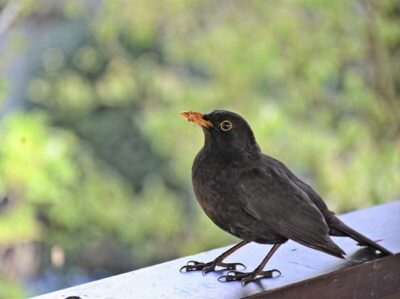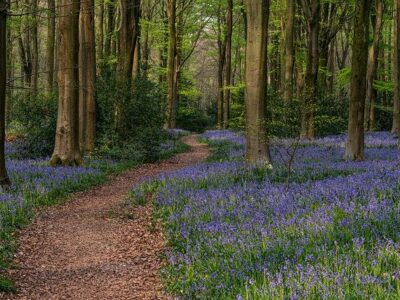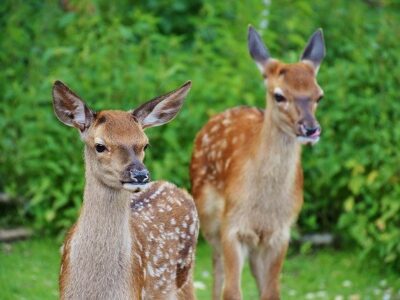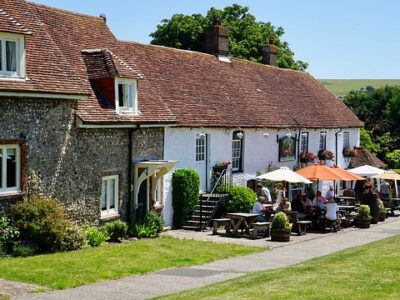 meet the poets and writers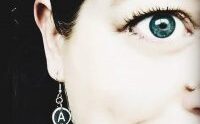 Kathryn Anna Marshall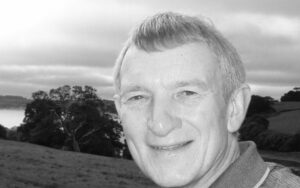 Patrick Osada
Peter Burrows
Duncan Forbes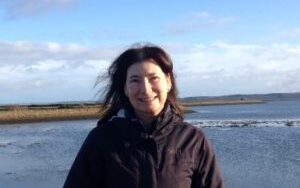 Robyn Bolam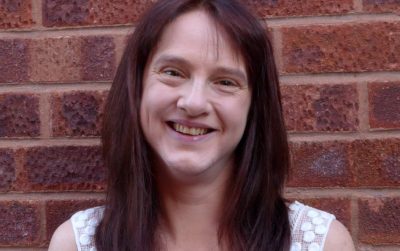 S.A. Leavesley
Andrew Howdle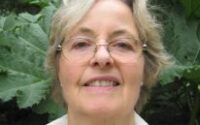 Lizzie Ballagher

Glenn Hubbard

.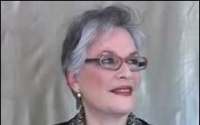 Ruth Sabath Rosenthal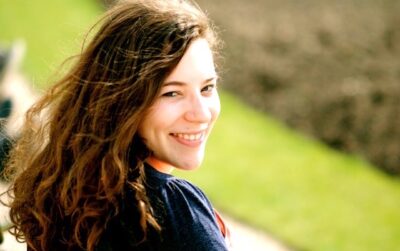 Iris Hanson
New Build
Our first poem for summer is by Kathryn Anna Marshall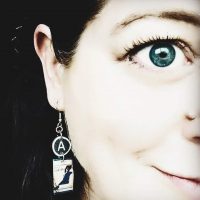 Kathryn Anna Marshall has been writing poetry forever but has only recently made the leap from scribbling furtive notes on the backs of envelopes to sending her poetry into the world, since her diagnosis with M.E.
Kathryn is inspired by goings-on inside and outside her head and loves the puzzle of putting feelings onto a page. She mainly writes poetry, but also enjoys working with short short fiction and relishes the challenge of producing a good story in one hundred words. She has one publication to date, in Mslexia magazine as part of their Autumn showcase.
Kathryn Anna Marshall – Your shadow at morning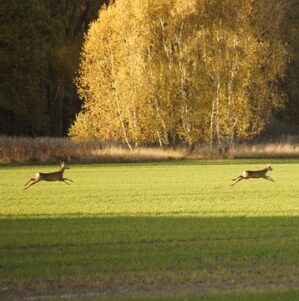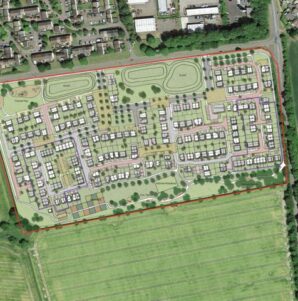 Sunsets, shadows, finches,
pylons, perceived blots, scars.
Old; older than my brother,
photographed, floodlit, mourned.
Finch pink contrast to Sabrina's silt,
sun catchers signalling home; or
dark brood of hill hiders,
sky belchers, giants —
hot on the trail of smelting, of weld,
rebranding our pastoral past.
Leave us deer, leave us grass, leave us sun –
leave us swathe after swathe of homogenous homes,
anonymous footways,
sulphur masked stars.
Some tell me it's better; still
my eyes fixate on that gap.
Kathryn Anna Marshall
Kathryn thanks Jo Clarke and Angie Silkstone of Both in Stitches for the image (below) and inspiration.
Rattus Rattus by Kathryn Anna Marshall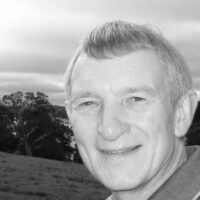 Patrick B. Osada is an editor and also writes reviews of poetry for magazines. He recently retired after ten years on SOUTH Poetry Magazine's management team and as the magazine's reviews editor
His first collection, Close to the Edge was published in 1996 & won the prestigious Rosemary Arthur Award. He has published six collections, How The Light Gets In was launched in June 2018.
Patrick's work has been broadcast on national and local radio and widely published in magazines, anthologies and on the internet..
For more information about his work and a selection of his poetry, visit :
Patrick Osada – Owlswood Park
This old path ends, abruptly, at a fence
that circles round the place where trees had stood.
Once branches arched above a bluebell glade
but now, with scaffold poles, a forest's made.
CONSTRUCTION SITE, KEEP OUT, the notice says
so from this world of brick all birds have flown;
no place of shelter for the roving deer
and rabbit, stoat and fox have disappeared.
In time the new estate will be unveiled
with streets named after "heritage we share" —
but not one creature, tree or plant remains
to prove this place was once more than their names.
Patrick B. Osada

Peter Burrows is a librarian in the North West of England. His poems have appeared most recently in Marble Poetry, Northwords Now, Dream Catcher and Coast to Coast to Coast. His poem 'Tracey Lithgow' was shortlisted for the inaugural Hedgehog Press 2019 Cupid's Arrow Poetry Prize and appeared in the Cupid's Arrow Love Poem Anthology.
peterburrowspoetry.wordpress.com
Peter Burrows – One for the Road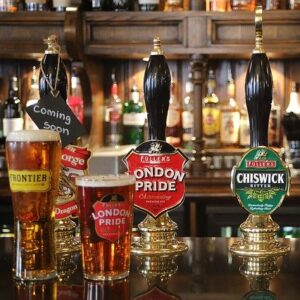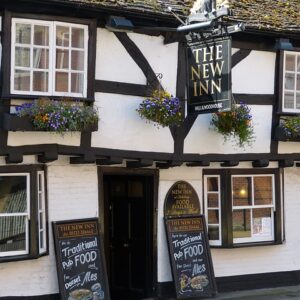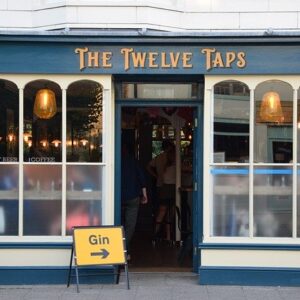 How long since we parted swaying in the night,
refreshed from standing at each bar, chills warmed
by the convivial fug. Rubbing hands
at the gleaming sweep of brass pumps showcasing
guest ales. But where do we begin? The Glory's
boarded up. The Old House at Home trendy flats.
The Jester's now a funeral parlour.
So, we bus past The Bull: 'Séance tonight.'
Past pubs waiting saviours, signs that promise:
'Great opportunities! Be your own boss,'
to long-sought welcoming lights. The White Lion
still roars (though it's an age past early doors). Casks
flowing, where something more than this night remains.
Last orders? One for the road, and back again.
Peter Burrows
One for the Road was originally published in Now Then
Sweeping the Sands by Peter Burrows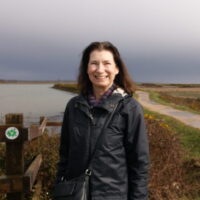 Robyn Bolam has published four poetry collections with Boodaxe. New Wings was a PBS Recommendation and Hyem, which includes eco-poems with settings from the New Forest to New Zealand, appeared in October 2017. Widely anthologised, her work is included in Land of Three Rivers (Bloodaxe, 2017) and other publications including Eliza's Babes: four centuries of women's poetry in English. She was Hampshire Poet 2018 and, in 2016-17, led the combined-arts Ferry Tales project on the Solent.
Robyn Bolam – Unsettled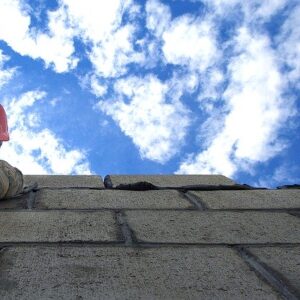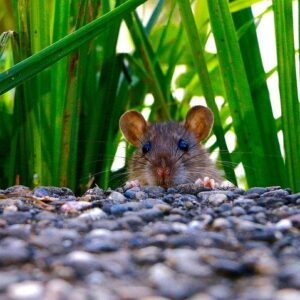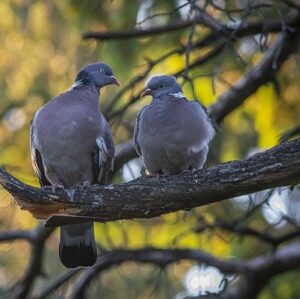 The houses in front of my garden are up to their gutters in mounds of topsoil –
an optical illusion: lights glow behind drawn blinds. And, out of the soil,
another new house is growing. It was flat as foundations, then a glimpse of brick.
Now its lower storey is bolting. Every night I come home to a different view.
Oak trees, roofs, an obscured church, and the street light that shines on my shed,
making it look as if someone is living inside, move closer together in the dusk.
Rats that fled the field when it was cleared, have tunnelled under next-door's fence.
A field vole, popped up from his newly-dug hole, freezes when our eyes meet.
The fox that thumped my wall in the night to plunder a birds' nest, is trotting
down the twittens with empty jaws. Blackbirds cease hopping; starlings
fall silent; pigeons squeeze together in the crook of a bough – then,
larger than you'd expect, two deer appear through dark rain. They leap.
Robyn Bolam
Starving after long rain, the barn owl hunts again by Robyn Bolam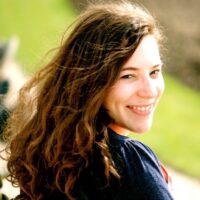 Iris Hanson, originally from Hampshire, is now a Cardiff-based musician. She is an avid plant-keeper, and loves to watch the weather change over the water.
During lockdown, Iris planted the pips from a lemon and now has a grove of sixteen in her flat.
'The Whistling Cages' is Iris' first published story.
Iris Hanson – Collection of Bones: The Whistling Cages
Collection of Bones: The Whistling Cages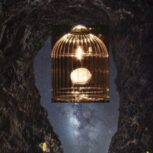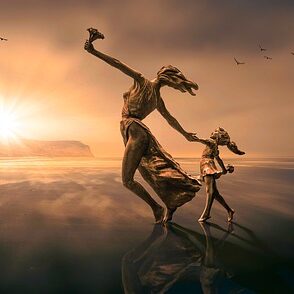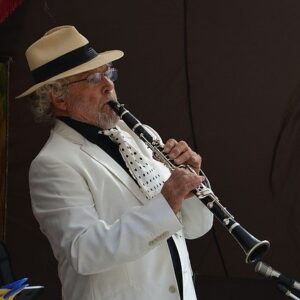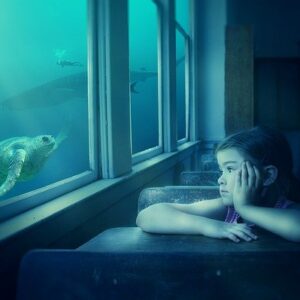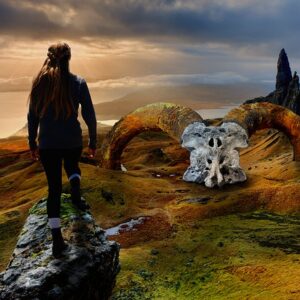 I had a dream that I was suspended from a cliff edge in one of the old cages. I don't know how; they could barely support me when I was nine years old. I reasoned that it was a mixture of past and present, as most dreams are. And my lovely sea-view flat can sometimes act as a prison. Anyway, the wind had been roaring and groaning all night. It had probably skipped through my ears using my skull as a whistling cage. I told my friend about that, and she had no clue what I meant so I explained about the cages. I thought everybody knew about them considering they now charge a £12 entry fee. God knows what they spend it on; it's definitely not knowledgeable guides.
I'm sure I heard one of the guides refer to my Mum's stories. It was all I could do not to say 'plagiarist' pointedly and smother it with dry coughing. I don't think Mum likes to think of herself as part of the history of anything. She said it made her age a decade every time she glanced in the mirror. I joked that she'd better not look more than twice or she'd be seeing a cage of worm food. Then she gave me the 'I'm really bored of your immature quips' look (which lasted for two uncomfortable seconds), sighed, and left the room.
The whistling cages were of gold filigree, embedded between the porous rock pillars. You can find them high in the cliff caves along the Jurassic coast. Mum used to take me up there early on blustery Sunday mornings and tell me about them and that she was related to them through her Jewish ancestry. I'm convinced she had her timelines mixed up, and wasn't sure how you could be related to geological phenomena, but I always loved her stories, and who was I to correct her.
I'm not entirely clear on the connection because, as I said, I wasn't entirely convinced at the time, and at the time I was about six. The idea is quite obvious. The cages are there so that when the wind is up, it would whoosh along the tunnels and through the cages, creating beautiful whistling music. Pure enough to calm the souls of the most belligerent pirates, Mum would say. I didn't imagine they would have much time to lurk and contemplate within the caves, so to my young mind, it was probably not true.
The next cage I found to be significantly more problematic. These golden cages high inside the cliffs were based on the original whistling turtle clarinet used in the premier of Strauss' Alpine Symphony. It was apparently more of an ocarina really, with the smallest holes played by your little fingers, located on the backs of the turtle's knees and thighs. This is why the clarinettists must play it, due to their nimble little fingers. Not to say they have small fingers, just that their smallest finger is the most nimble amongst wind players. The cage developed into a highly ornate version with protruding tubes. I suppose that the tubes, over time, became a cage. Well, the bars of the cages were hollow, like a macaroni-spaghetti hybrid. I imagine that's one way the wind used them.
Mum would sometimes bring along her bass ocarina. She usually wouldn't play. I assumed at first it was because she was embarrassed. But I think perhaps it was to spite me, because she knew that what I wanted most was to hear her play a duet with the wind in the golden cages. She once told me about her grandfather playing Klezmer on his clarinet, and I suppose that's her great connection. Exceedingly tenuous at best.
As a small child, I was curious. I always wanted to know how turtles got their nails clipped, but whenever I asked, Mum would stop whatever she was doing, and leave. Once, she threatened to lock me in one of the cages, and leave me there for a week. She said the birds might get in and peck out my eyes. I didn't think they could, but she assured me she'd found a dead one up here once with its eyes gouged out. It was appendices like these that made her stories a bit less magical. Not the morbidity, just the plain-as-day flawed logic. Who pecked out the bird's eyes? And how would it know where my eyes were, if it had no eyes? So I asked for clarification. Was I going to be blinded, or was it any bird that dared approach me? I didn't want to be a bird-blinder. If I was, I couldn't spend the afternoons with Dad feeding the ducks. So then, she actually did it. She stuffed me into a cage, slammed the gate, and ran down the steps, but not before giving it a kick for good measure. You couldn't lock them, but it was terribly frightening. I wasn't allowed to leave that entire day because, as she put it, I wouldn't stop crying. Which made it sound as if I had a choice.
When I was a few years older, I used to play up there. We'd pretend to swing the cages out over the sea. Below one of them was a deep hole bored through the rock, like the toilet holes in old castles. You could see all the way down to the crashing waves.
I met a composer skulking around amongst the cages once. She said Beethoven would have hated it – too many intertwining melodies. But mostly because he'd never find his way out. Ever since then, I kept an eye out for bones. I found some once, too small to be human. My friend, Nell, said they were from a rat – she would know. But I argued that they had to be the bones of a sightless bird. She said the proof for that was long gone, and that I mustn't believe my Mum's stupid stories. I resented her for that.
Iris Hanson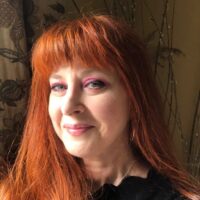 Jane R Rogers is a member of Greenwich Poetry Workshop and co-edited Magma Issue 65. Jane's poems have appeared in Atrium, Prole, Ink Sweat & Tears, The Curlew, Long Exposure Magazine, Tears in the Fence, Obsessed with Pipework, Tate Gallery Website poetry anthology 2012 among others. Jane lives in London but misses the West Country.
Jane R Rogers – The Dreamworld Drips with Reality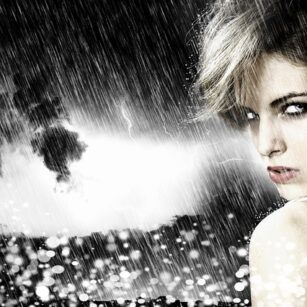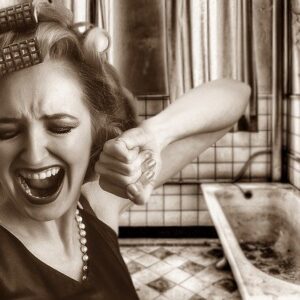 I wake. I hear filmic rain at the window. It's dark. I am alone in the house my parents bought in a recurring dream. Alien and familiar. Sprawling and claustrophobic. I look through one eye. The other is clammed shut. It needs my forefinger and thumb to hold it open. The clam eye sees black. I'm determined to walk around the house. In the bathroom I yank the cord for the light. Half the ceiling comes down. I wince, look with my clam eye which now sees blue. The bathroom walls drips with dust and water. I know I need to call the plumbers. I take another look and the bathroom wall has grown candles which flicker and revive. I'm sure my parents will notice their house is deteriorating fast. I will instruct the plumbers to restore the house to the tranquillity it has in that recurring dream. I sleep and I can see it clearly.
Jane R Rogers