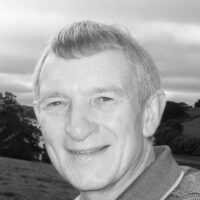 ---
Patrick B. Osada is an editor and also writes reviews of poetry for magazines. He recently retired after ten years on SOUTH Poetry Magazine's management team and as the magazine's reviews editor
His first collection, Close to the Edge was published in 1996 & won the prestigious Rosemary Arthur Award. He has published six collections, How The Light Gets In was launched in June 2018.
Patrick's work has been broadcast on national and local radio and widely published in magazines, anthologies and on the internet..
For more information about his work and a selection of his poetry, visit :
Patrick's current collection, From The Family Album, is available for purchase from his website.
This Christmas present from an aunt
soon put me off with its long lists
of microscopes and other kit
a ten-year-old could not afford.
Hankering to explore my world
and study birds and butterflies,
I quickly scanned the Contents page
for simple projects to absorb.
There, in a list of Handy Hints,
I found what I was looking for :
Hang Peanuts from your bird table
and watch for blue tits to arrive.
So, sorting through the sewing box,
I chose black cotton for the nuts
and, threading them through open husks,
in innocence, a trap was made.
Soon bored with waiting for a flock
of small, nut-eating acrobats,
I settled down to kill some time
and lost myself in comic books…
As fierce Apaches stormed the ridge,
the sound of war-whoops filled the air…
these swiftly changed to jabbering
as real life suddenly came clear.
From the garden, fierce chattering :
a blue tit struggled desperately –
trapped by a leg, entwined in thread,
it flapped and fluttered to get free.
With no one close to lend a hand,
I grasped those frantic flailing wings,
shared in its trembling and stark fear,
while scrambling to release its leg.
Somehow my palsied fingers freed
its frailty from the binding thread
and luck, not judgement, played its part
in fumbling this bird's release.
And so I learnt that actions made
demand responsibility;
then, taking down my blue tit traps,
I went in search of better books…
Patrick B. Osada
Still Life with Feathers by Patrick B. Osada
Owlswood Park by Patrick B. Osada