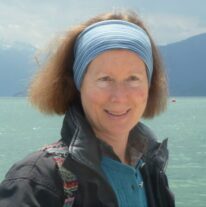 ---
Claire Booker lives in Brighton between the south downs and the sea. Her poems have been set to music, filmed, displayed on buses and published widely, including in Ambit, Magma, The Moth, Poetry News, Rialto, Stand and The Spectator. She was presented with a Kathak Literary Award in Bangladesh. Her pamphlets are The Bone That Sang (Indigo Dreams) and Later There Will Be Postcards (Green Bottle Press) and her most recent publication is A Pocketful of Chalk published by Arachne Press. Links can be found below and Claire's website can be found at www.bookerplays.co.uk
There's freedom in the ecstasy of grasses,
stalks prostrating, flung as jib
or clacking spinnaker.
A sharp faced colt, legs slim as wickets,
bucks for the joy of it.
Time glides here like a hawk
shadow stealthing fox-red bracken. Far out
the cone of Ailsa Craig
flukes
sea-glass breaks
dolphins
flint-backed, tumbling
in the fish glutted strait hundreds skip
a ring o' roses round the coves
then plough from view
behind the headland's granite levitation.
Claire Booker
At the bear sanctuary by Claire Booker