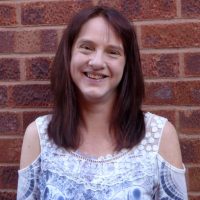 ---
S.A. Leavesley is an award-winning poet, fiction writer and journalist. Overton Poetry Prize winner 2015, her latest titles include How to Grow Matches (Against the Grain Press) and plenty-fish (Nine Arches Press). She has been published by the Financial Times and The Guardian, on Worcestershire buses and in the Blackpool Illuminations. An occasional climber and surfer, she loves swimming, cycling, walking and being outdoors.
Seasonal Adjustment Order
S.A. Leavesley
"Oh, for Pete's sake, pull yourself together!" Gloria snapped as her daughter sat down on a chair for waiting pharmacy patients and closed her eyes.
Leila nodded half-heartedly, then watched her mom hover in indecision between porcelain and ivory in the new range of foundations with ultra-miracle rejuva-somethings. Gloria had already spent fifteen minutes fluttering between the seemingly identical shades of cherry and rose-red blush. Leila was tired: tired of feeling tired, tired of trying not to feel tired, but most of all tired of trying to please her mom.
Gloria piled half a basket of new cosmetics onto the pharmacy counter. "You're looking run-down, I'll book you in with the beautician – she'll make a new you!"
"What a great idea." Leila forced a smile.
As usual, Gloria's tone sounded more like an order than a recommendation. But Leila had no intention of seeing her mom's beautician. Gloria meant well. But she'd put forward celebrity mag herbal treatments even as Leila brewed up with her open cupboard displaying peppermint/ ginger/ camomile/ lemon balm/ echinacea/ solve-all-the-world's-problems tea next to chai, flower remedies and half-empty vitamin packets. Then Gloria would comment on her daughter's haircut not framing her face, suggest Leila's nails needed manicuring, or worry that Leila's frown lines were deepening… Leila would smile, nod, then turn conversation to the weather – inevitably overcast with patches of raincloud and drizzle.
#
Seasonal Adjustment Order – S.A. Leavesley 2
Walking home past the park's giant oak later that day, Leila had the craziest idea. As she leant back against the tree, she felt its sturdy trunk behind her, its textured bark beneath her fingers, birdsong swilling around her. She reached up and started climbing, into the heart of the oak's greenness.
Once she'd found a comfortable branch, Leila cradled a leaf in her hand and pulled at a loose skein on her cardigan until it unravelled. She took a safety pin from her jean pocket, then began twisting and stitching. Slowly, but steadily, she moved from tree to tree until she'd made herself a coat of leaves.
She put it on. Two weeks later, she was still wearing it, and the leaves were growing. A patchwork of small, light green scales that spring, it stretched and glossed into the short summer, its surfaces shiny with reflected light. Swallows, warblers and finches trailed behind her. By autumn, Leila's jacket was brighter than Joseph's dream coat and crackled as she walked.
#
Seasonal Adjustment Order – S.A. Leavesley 3
"But what will you do once all the leaves fall off?" Gloria asked, wrinkling her porcelain-powdered nose. "Wouldn't an evergreen suit you better?"
Leila grimaced as she thought of pine needles: the sharp points and branches weighed down by her mom's glitzy Christmas stars or fluffy angels, tinsel binding and heavy baubles. Even the holly's beads of startling colour came with prickliness, waxy skins and expectations. Who on earth would choose to dress in these if they didn't have to?
"Actually, Mom…" Leila passed Gloria the biscuits. "I think it will suit me fine. Of course, I won't be fit for visitors until the spring. I'll be a new me though by then."
S.A. Leavesley
The Disappearing River, Stream, Trickle by S.a. leavesley