Gerald Durrell
poems and stories
scroll down to read poems and stories in our
Spring Issue
growing weekly from April 2021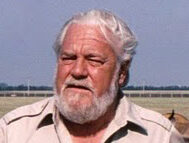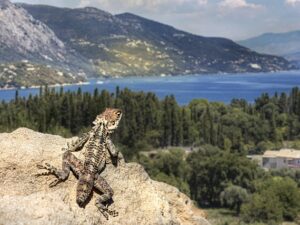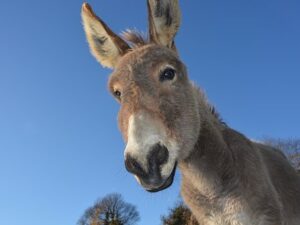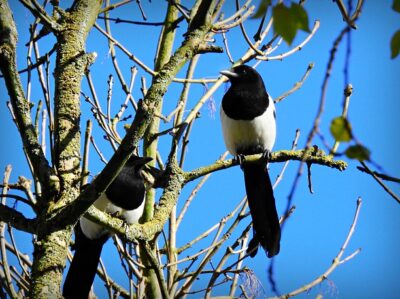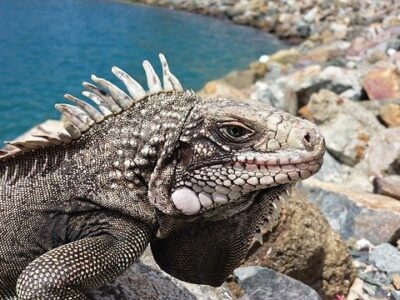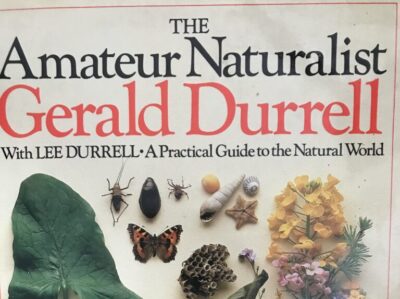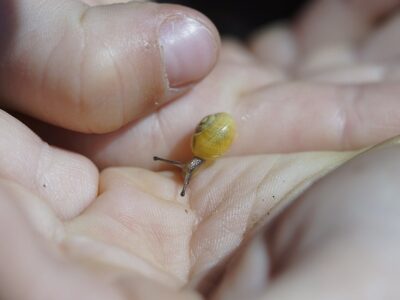 meet the poets and writers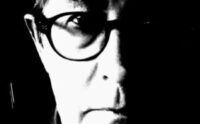 Alun Robert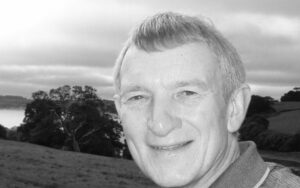 Patrick B. Osada

Ronnie Smith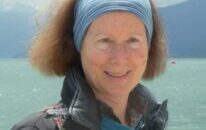 Claire Booker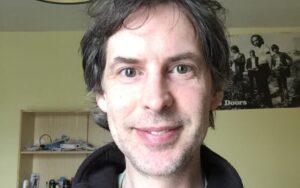 Kevin Cahill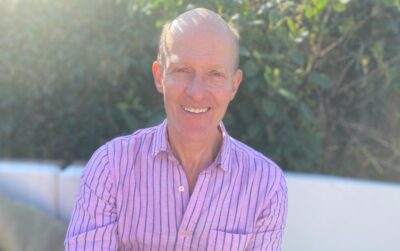 Julian Bishop
.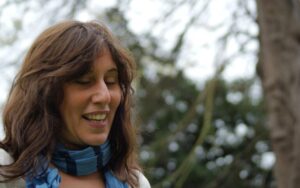 Suzanne Iuppa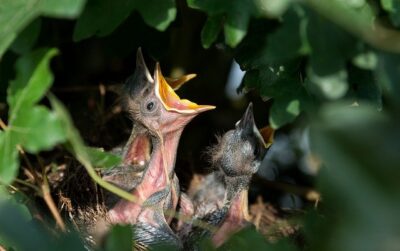 .
Gerald Durrell
Our first poem for Spring is by Patrick B. Osada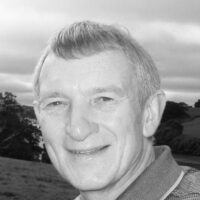 Patrick B. Osada is an editor and also writes reviews of poetry for magazines. He recently retired after ten years on SOUTH Poetry Magazine's management team and as the magazine's reviews editor
His first collection, Close to the Edge was published in 1996 & won the prestigious Rosemary Arthur Award. He has published six collections, How The Light Gets In was launched in June 2018.
Patrick's work has been broadcast on national and local radio and widely published in magazines, anthologies and on the internet..
For more information about his work and a selection of his poetry, visit :
Patrick's current collection, From The Family Album, is available for purchase from his website.
Patrick B. Osada – A Field Guide for Young Naturalists
This Christmas present from an aunt
soon put me off with its long lists
of microscopes and other kit
a ten-year-old could not afford.
Hankering to explore my world
and study birds and butterflies,
I quickly scanned the Contents page
for simple projects to absorb.
There, in a list of Handy Hints,
I found what I was looking for :
Hang Peanuts from your bird table
and watch for blue tits to arrive.
So, sorting through the sewing box,
I chose black cotton for the nuts
and, threading them through open husks,
in innocence, a trap was made.
Soon bored with waiting for a flock
of small, nut-eating acrobats,
I settled down to kill some time
and lost myself in comic books…
As fierce Apaches stormed the ridge,
the sound of war-whoops filled the air…
these swiftly changed to jabbering
as real life suddenly came clear.
From the garden, fierce chattering :
a blue tit struggled desperately –
trapped by a leg, entwined in thread,
it flapped and fluttered to get free.
With no one close to lend a hand,
I grasped those frantic flailing wings,
shared in its trembling and stark fear,
while scrambling to release its leg.
Somehow my palsied fingers freed
its frailty from the binding thread
and luck, not judgement, played its part
in fumbling this bird's release.
And so I learnt that actions made
demand responsibility;
then, taking down my blue tit traps,
I went in search of better books…
Patrick B. Osada
Still Life with Feathers by Patrick B. Osada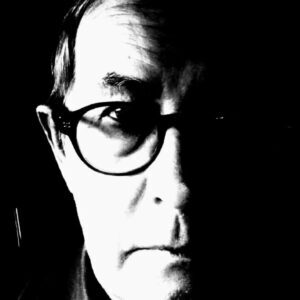 Alun Robert is a prolific creator of lyrical free verse. He has achieved success in poetry competitions across the British Isles and North America. His work is published regularly by literary magazines, anthologies and webzines in the UK, Ireland, Italy, South Africa, Kenya, USA and Canada. He is a member of the Federation of Writers Scotland for whom he was a Featured Writer in 2019.
Alun Robert – Le Touquet Conundrum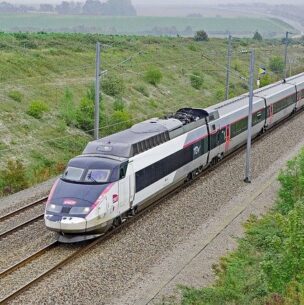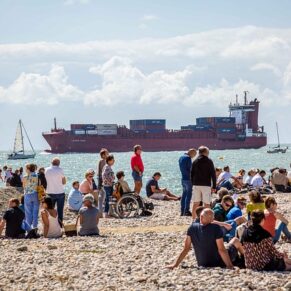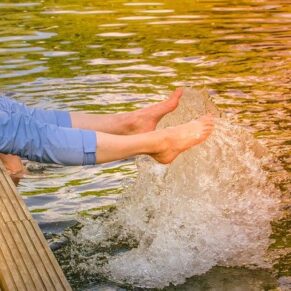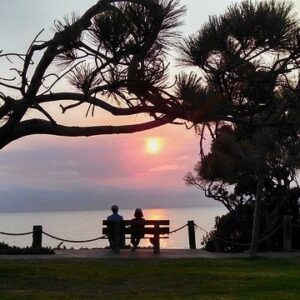 Long train ride from Paris
Third Class standing
lugging two too many suitcases to
Étaples at last.
Long walk through town
over Canche bridge
tree-lined avenues into Le Touquet
cafés, beach, our gîte.
Le Touquet promenade
you and me
thousands of tourists
jostling for spring sun
postérieur on concrete
tepid to the touch
dipping toes into La Manche
caressing, meandering.
Debating dépression économique
little work for those wicked
few jobs back home for the aged:
you and me.
Shall we remain here from Paris?
Will we join a commune?
Can we posture au naturale
in a sheltered corner of Les Dunes?
Alun Robert
The Was My Tomato Patch by Alun Robert
No Return To Varoşa by Alun Robert
After Roger Deakin by Alun Robert
Claire Booker lives in Brighton between the south downs and the sea. Her poems have been set to music, filmed, displayed on buses and published widely, including in Ambit, Magma, The Moth, Poetry News, Rialto, Stand and The Spectator. She was presented with a Kathak Literary Award in Bangladesh. Her pamphlets are The Bone That Sang (Indigo Dreams) and Later There Will Be Postcards (Green Bottle Press). Her website can be found at www.bookerplays.co.uk
Claire Booker – At the bear sanctuary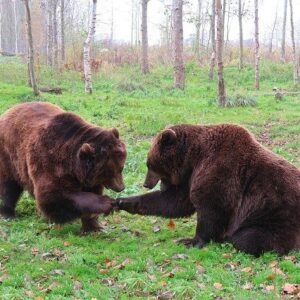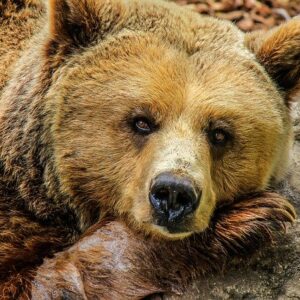 old friendships are respected: Attila
is cohabiting with a wolf. Florentina waits
for Boris by the perimeter fence, happy
to crop grass under his blinded eye as he
eviscerates oranges (his favourite fruit)
or licks speciality ice cream made of
supermarket throw-outs. Maria has been
breaking hearts since she arrived – wears her
blunt claws and honey-fur apologetically,
treads the same small circle round the clock.
She once rode a unicycle in tight rings
inside a larger ring. One night in Bucureşti
she sat down bare-faced in the sawdust –
refused the crowd's adulation. Fellow artiste,
Max, has turned solo; rotates on his huge
haunches and paw-claps groups if he
spots them by the fence. He's under his own
management now, perfecting applause . . .
Claire Booker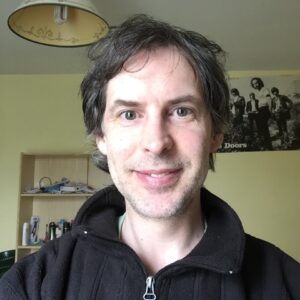 Kevin Cahill lives in Cork. He is inspired
by the stamina and adaptability of urban
wildlife, and flora, and has written extensively
on this subject. His work has appeared
in Southword, Abridged, Wild Court,
The Stinging Fly, Edinburgh Review
and Berkeley Poetry Review
Kevin Cahill – Two Poems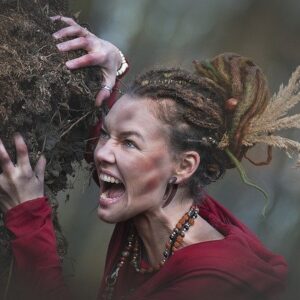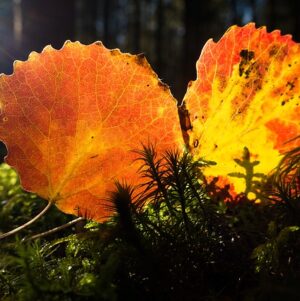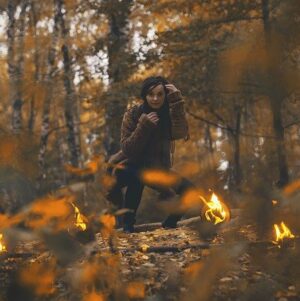 Who dove down towards
dicings wearing only a size 32D bra,
sharply – spikily – triform footwear,
and sporting two sprigs of Brythonic hay
inside a pair of skinny-jeans.
Soft-landing onto the coomb of my hands
turning her hourglass tummy
to the huckleberries, white wine, worms,
all laid out for her rioting in expectation…
one colossal gobble later and only a gloriously
backflipping maggot
bungles about on her excitedly custard-coloured nose.
And if all that's not enough, well, wearing ass's ears,
an old Lamb's-Quarters I've planted
with cabbage flowers, weedstalks, Bumblebee-Blossoms
and Fog offers her a doggy-bag-worth of eeks!
squeaks! insectile shrieks!
to be brought back to her cold-water flophouse
on the fifth floor of the alder.
And although the planted Dragon-Fly's pinafore
I paid for falls open
revealing only mush, although the Fly-Trap
is a plink of heads and droppings
and although she is a traditional woman
in the sense of – she doesn't do dutch –
she has given me licence to be so much…
naked, rain-ribbled,
wearing only my pointed hat, punting my way
through zombies, dung beetles, skeletons
breezily, beating the wind on my broomstick,
her wind the wings underneath me.
Kevin Cahill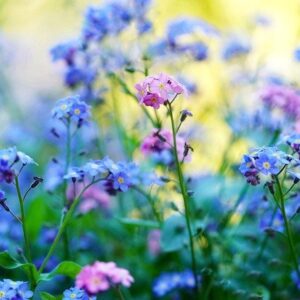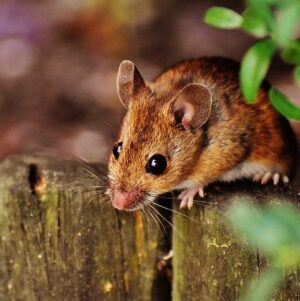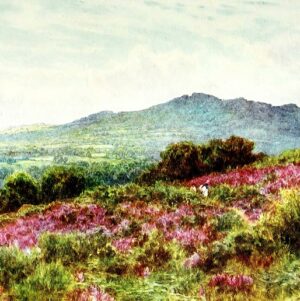 With a forget-me-not fringe,
with a hand on the hagiographical coat
of a polecat, Maria Branwell manufactures cologne
from the spray of Jesus's-Fingers
pressed in her hand. She is the thing
that gets in your eye – the illiterate planet
of a teardrop that breeds cats
crossing their legs at the ankles – rubbing your face
into the churchdoors. Over this piece of greenwood
the papyrus dustbowl
of the church-calendar
inundates with activity…
and always now, at Gittisham, Queen Camel,
Gulval, Charlton-All-Saints,
the mitres of stirred-up churchmice
run up your chair:
Maria's milk-teeth and Sunday bonnet
pointing at your heart.
Note: Maria Branwell (1783-1821) was the mother of the Brontës. Jesus'-Fingers are a West Country name for the Bird's Foot Trefoil.
Kevin Cahill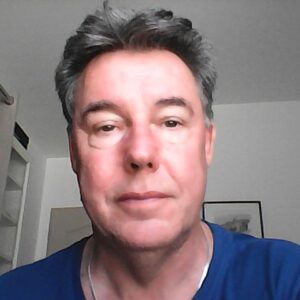 Ronnie Smith grew up in the west of Scotland some time ago. He has been lucky enough to travel as widely as he had hoped. He has lived in Romania and now in the south of France where the open landscapes provide much of the inspiration for his more recent writing. A lot of Ronnie's poetry comes from nature although he also contributes articles on politics and culture to a number of online publications. However, poetry is taking over.
Ronnie Smith – Aground