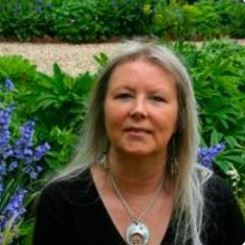 ---
Lesley Quayle is a widely published, prizewinning poet, an editor and folk/blues singer. She has a collection, Sessions, (Indigo Dreams) and a pamphlet Songs For Lesser Gods, (Erbacce) featuring her prizewinning series of sonnets of the same name. Her latest pamphlet, Black Bicycle, was published in May 2018 by 4Word Press.
I met her in the early morning,
muttering through a whitewash of mist,
each footprint a wet hollow of silver
leading from mushroom rings
which nudged the leaf mould
like a clutch of bantam eggs.
Old eyes, their spawn of cataracts
scavenging light in dismal pools,
and words, more incantations,
spooling from her lips like broken
threads. She hastened by
with her cloth full of mushrooms.
She eats with the seasons,
gathers and garners as her folk did,
holds ancestors round her like a shawl.
She's always known weather ways,
crush of snow on the blunt hills,
the tug and snatch of westerlies,
and spring igniting cold valleys.
Now she lives away from
the mother eye of the village,
with its carnival of light and noise.
Estranged by dogged pride,
deciphered like a seldom spoken tongue,
she clenches her world in a horned hand,
tight as the mushroom cloth.
Lesley Quayle
Four Mornings by Lesley Quayle