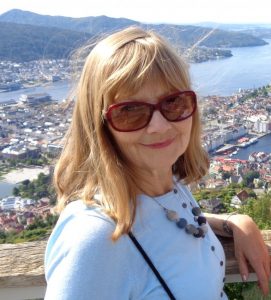 ---
Maggie Butt is an ex-journalist and BBC television producer turned poet and novelist.
Her poetry collection Degrees of Twilight (2015) follows Sancti Clandestini – Undercover Saints, an illustrated hagiography of imaginary saints, and Ally Pally Prison Camp, which tells a little-known first world war story. Earlier collections were petite and Lipstick. Her novel House of Dreams was published as Maggie Brookes.
Maggie is an Associate Professor at Middlesex University and an Advisory Fellow for the Royal Literary Fund. She has judged the Frogmore, Ver Poets and Barnet poetry competitions, and this year is judging the Ware and Segora.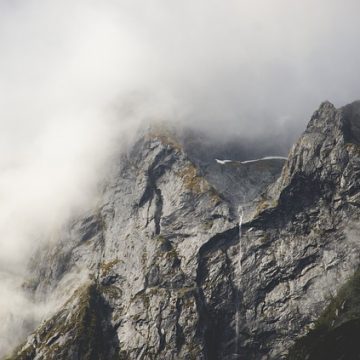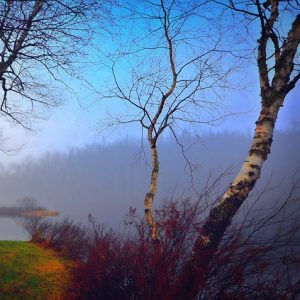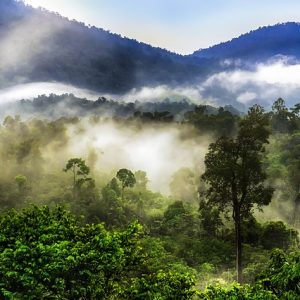 mist
drapes over the shoulders of the mountains
like a mohair shawl; droops to the rippling
pewter-and-mercury shadow-chasing surface
of the fjord; rises up the vaults and chimneys of craggy
walls of rock; cocoons the timbered cottage
cuddled into the breast of the hillside;
mist
softens the reflections of white weatherboard
houses, red boat-sheds and silvertrunked birch trees
on the water, veiling their loveliness;
mist
skates on the gunmetal-sheen of the wet road;
swims in the shallow rivers which buck-and-thrash
in their craving to join the sea; brushes the black conifers
sillhouetted along the ridge, competing to pierce
the skin of the sky, disappears them into herself.
Maggie Butt
Degrees of Twilight by Maggie Butt