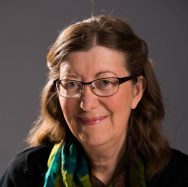 ---
Mary Robinson grew up off-grid on an isolated smallholding in Warwickshire. Her first collection is The Art of Gardening (Flambard 2010). She won the Mirehouse/Words by the Water Poetry Prize in 2013 and the Second Light Poetry Prize (short poem category) in 2017. Her work includes two pamphlets, Uist Waulking Song and Out of Time, the latter to accompany a poetry/photography collaboration with Horatio Lawson, exhibited at Theatre by the Lake, Keswick in 2015.
Her poems have appeared in several magazines. Her most recent publications are Alphabet Poems (Mariscat Press 2019) and Trace (Oversteps Books 2020). She lives on the Llŷn Peninsula in North Wales. Her blog is: Wild About Poetry.
(http://maryrobinsonpoetry.blogspot.com)
And for more information visit:
www.poetrypf.co.uk/maryrobinsonpage.shtml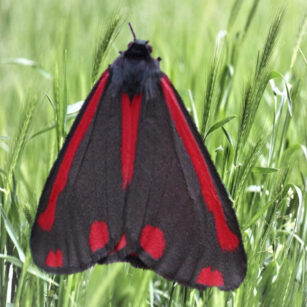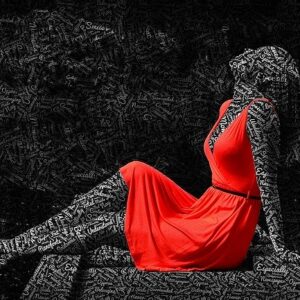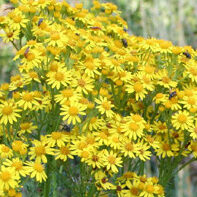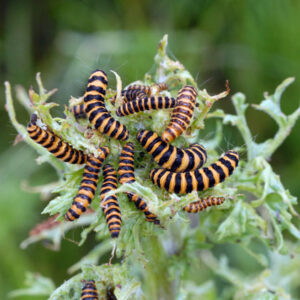 Dropped ear-ring,
red and black
enamelled jewel
in the grass
(no skulking in twilight
shadows, no bashful
introvert masquerading
as dead leaf).
Cinnabar moth –
a brazen daylight flyer
for whom camouflage
is not the point. Don't
even try, it signals.
Too ostentatious to trust –
Tyria jacobaeae
is a shameless
collaborator. The name's
a giveaway –
it sleeps
with old man ragwort.
Mary Robinson
First published in The Art of Gardening (Flambard Press 2010)
Recollecting Water by Mary Robinson