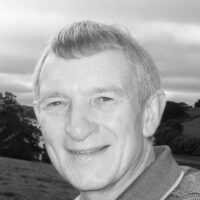 ---
Patrick B. Osada is an editor and also writes reviews of poetry for magazines. He recently retired after ten years on SOUTH Poetry Magazine's management team and as the magazine's reviews editor
His first collection, Close to the Edge was published in 1996 & won the prestigious Rosemary Arthur Award. He has published six collections, How The Light Gets In was launched in June 2018.
Patrick's work has been broadcast on national and local radio and widely published in magazines, anthologies and on the internet..
For more information about his work and a selection of his poetry, visit :
One bracing day, we watched them go :
leaving the nest box in strong winds.
Unable to fly in such a gale,
from off the ground I rescued one
and placed him in a nearby tree,
knowing that soon he would be found
by anxious, watching, parent birds.
Next day we saw that four bird brood
perched in the apple tree in line,
fluttering wings, demanding food.
Weeks later, from my laddered perch,
I freed the birdbox, took it down,
ready to empty, clean and paint.
The final stubborn screw unscrewed,
carefully I removed the roof
allowing daylight to flood in
to this dark space – the bluetit's home.
A filigree of spider's web
obscured the nest, catching the sun,
masking the contents from my sight.
Perched on a bed of moss and fur
with face inclined towards the hole
through which he'd last heard parents' call
and watched his siblings take to flight,
he seemed complete. Perfect and whole –
as if somehow he'd been preserved,
saved by God's taxidermist's art –
waiting for tiny wings to grow
enough to take him to the light
and join his brood – if life could start.
Patrick B. Osada
From my collection : How The Light Gets In (Dempsey & Windle Publishers)
Owlswood Park by Patrick B. Osada