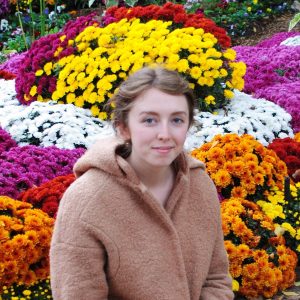 ---
Rebecca Parker is based on the coast of Fife, Scotland. Her work has most recently appeared in Gutter, The Curlew, and online at The Poetry Village. She is a member of the publishing team at Tapsalteerie.
See that day we found a forest fire
roasting the ramsons, that sizzling garlic smell
all down the path and my back baking
in the crackling sun while the bracken
crisped and snapped, and melted your shoes
as you stamped
And even the flames withered
mercifully on the hillside, like they too were
wrung out, drained, extinguished by this heat
And,
in the shade of the canopy meeting the sheer glen side,
an ancient feeling as I sat on the pebble bed, smoke
in my hair, hearing a dreamy hiss and pop of embers
doused
The water gurgling through my toes; ash floating down the burn.
Rebecca Parker