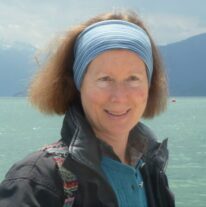 ---
Claire Booker lives between the sea and the south downs near Brighton. Her pamphlet Later There Will Be Postcards is out with Green Bottle Press and a second is forthcoming with Indigo Dreams Publishing. Her poetry has appeared in magazines including Ambit, Magma, The North, Rialto, Stand and The Spectator, as well as been displayed on Guernsey buses, filmed by Aberystwyth University and simultaneously performed at six venues during the 2019 Solstice Shorts Festival. Last year, she received a Kathak International Literary Award in Bangladesh where she was guest poet at Dhaka's International Writers Festival. Her website can be found at: www.bookerplays.co.uk
I could breathe in each last lash of him.
Fatness of fingers half furled,
smell of shelled peas –
such is the feel of new pricked dough
lightly brushed with milk.
That sly slant of eye hoards a foreseeing
loose of words or knowing.
He does not dream as I dream now
but as a sill gathering drops,
a dome's dark space absorbing whispers.
The lazy crescent moon, tipsy
on a bellyful of night, is hammocked
in winter branches. I'll watch the sky roam
panther black, count stars as sheep,
not close my eyes for disbelieving.
Claire Booker