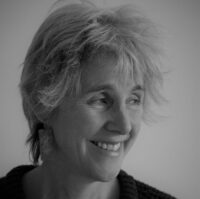 ---
Jean Atkin's new collection is How Time is in Fields (IDP, May 2019). Her poetry has featured on BBC Radio 4's 'Ramblings' with Claire Balding, and recent work appears in The Rialto, Magma, The Moth, Lighthouse and Agenda. In 2019 she was Troubadour of the Hills for Ledbury Poetry Festival, and BBC National Poetry Day Poet for Shropshire.
1. What's not natural grows here: chimaera trees
each a grafted ring of years on rootstock.
While from the ground, what's common rises.
2. Crow passes close & overhead,
wingtips ragging lime leaves.
We see it stretch out its claws, & back its wings
land in the shine
black shine of elderberries.
3. You move through this place as through a
painting, planting a future in
oaks. But how far ahead can we imagine?
4. Green alkanet flowers lapis blue in May and on
through soft October – commonplace,
unnoticed, underhand.
5. Yews older than iron, older than churches, old
like the tumuli under the churches, the round
stones under the stones.
6. In woods we forget things.
At the wood edge we tell stories.
Our eyes are adapted
to canopy & vista.
7. We hold a knopper gall, learn him
crouched like an homunculus, riding
the shoulder of this green acorn.
Inside him the grub of the cynipid wasp
& inside the grub, a gall wasp egg.
The grub within the grub within the nut.
8. Magpie dip & flash. Witch cackle.

9. Lost in the woods this bristling lime is where
the path runs out in aerial thickets.
Here foxes earth in mid-air.
10. Or a path we might miss, a walk inside a lime,
a local rite, a passage climbed
by children, aunts & dogs.
11. We're here to hear water, its tumble, its all-night
gutter-beck-bubble –
Town Brook's many-centuried voice.
12. Beech compensates its lean, throws out
long branches,
counterweights slowly into wind.
13. Box-straggle marks a once-clipped gateway.
A garden in a wood.
14. We raise the garden's ghost, scare up old paths
like thinning bones through trees.
15. We shush our footsteps out again through leaves.
16. A passage of yews drink darkly from Town Brook.
17. Water runs down over rock, the sounds arranged –
High notes conjured from tumbles of small stones.
Bass resonates from slab.
18. A gravity of seven yews around a pool.
19. Still water by a Green Chapel.
Time's shuffle. A way home.
Jean Atkin
(This poem was previously published in 'How Time is in Fields' (Indigo Dreams Publishing, 2019)).