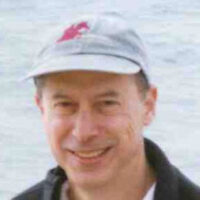 ---
Steven Luria Ablon, poet and adult and child psychoanalyst, teaches child psychiatry at Massachusetts General Hospital and publishes widely in academic journals. His poems have appeared in numerous anthologies and magazines such as The Brooklyn Review, Ploughshares, and The Princeton Arts Review. He has published five full collections of poetry including Tornado Weather (Mellen Poetry Press, 1993), Flying Over Tasmania (The Fithian Press, 1997), Blue Damsels (Peter E Randall Publisher, 2005), Night Call (Plain View Press, 2011), and, most recently, Dinner in the Garden (Columbia, South Carolina, 2018).
Accretion year after year
my unknown companion,
should I be proud,
my very own pregnancy?
If I had known would I
have talked to it like a friend?
Torn meniscus, cracked vertebrae,
hemorrhage in the right eye,
I adjust as if there is no deficit
but peeing is another matter.
As my prostate grows, I think
only of the next bathroom,
when to pull over on a country road,
when to search for Depends
like my forgotten days in pull-ups.
Today my surgeon blasts it
with the newest laser leaving
sand fine as a Caribbean beach.
Now I have infinite time
before that bathroom stop.
I listen to a torrent in the bowl.
Have I grown younger?
Steve Luria Ablon