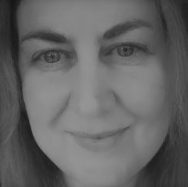 ---
Sarah Doyle is the Pre-Raphaelite Society's Poet-in-Residence. She holds an MA in Creative Writing from Royal Holloway College, University of London, and has been published widely in magazines, journals and anthologies. She won first prize in the WoLF Poetry Competition and Holland Park Press's Brexit in Poetry 2019; was a runner-up in the Keats-Shelley Poetry Prize 2019; and was highly commended in the Ginkgo Prize for Ecopoetry and in the Best Single Poem category of the Forward Prizes 2018. She is (with Allen Ashley) co-editor of Humanagerie, an anthology of animal-inspired poetry and fiction published by Eibonvale Press in 2018. Sarah is currently researching a PhD in the poetics of meteorology at Birmingham City University.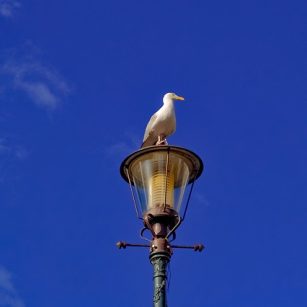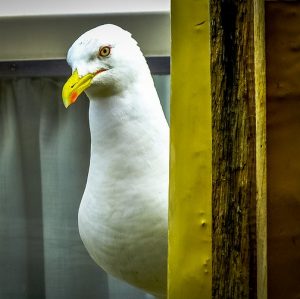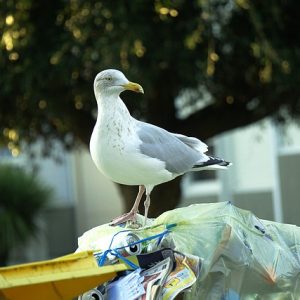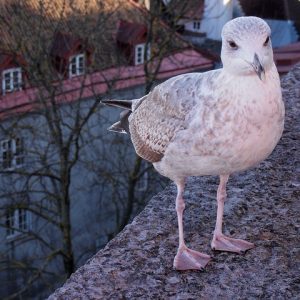 has no taste for fish, unless it's battered, fried,
vinegar-drenched – and spilling, half-eaten,
from an overfull dustbin. He's never caught
a herring in his life. He settles on streetlamps
as if they were, for all the world, crows' nests,
and has no notion of the winds that brought
his ancestors here, generations ago. City Gull
was born to the smoke, an urban hatchling,
streetwise and ready-mapped, no need to be taught
the wheres and hows of the complex crisscross
that spreads beneath him. He is all Cockney
birth-right, rough and ready squawks wrought
from a hawker's gullet. He is king of the tip,
lord of landfill, dines royally on detritus and
shits where he pleases, wasting no thought
on the paintwork of cars. City Gull wonders,
sometimes, at his webbed feet, the splashy clatter
on allotment shed roofs during his clumsy halt.
He does not understand why, when his A-to-Z
synapses know only this city, he wakes from
strange dreams where the air tastes of salt.
Sarah Doyle