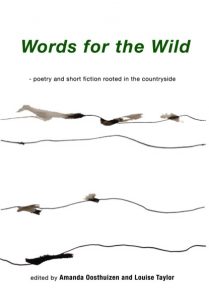 Our beautiful anthology – 104 pages of wonderful poetry and fantastic short stories rooted in the countryside – is now on sale
at a special price
with every penny going to fight development on beautiful Hampshire countryside
We want as many people as possible to enjoy our book so we are giving you the chance to buy at a lower price while stocks last.
What a great stocking filler! By buying the book you are not only supporting wildlife, the countryside and new writing but isn't such a gift just right for the cold winter days of the new year when the countryside might best be enjoyed from a comfortable fireside chair?
If you are in the UK and would like to buy a copy, click the shopping cart to find out more. The price includes postage.
If you are outside the UK, or would like to pay by a method other than PayPal, please email us at admin@wordsforthewild.co.uk and we will be delighted to give you details on how to purchase the book.
Every penny you spend will go to ADD – protecting the environment from destructive development
Words for the Wild
wishes you a very
Happy New Year!