Submission Guidelines
Please send up to 4 poems as a single Word document attachment to submit@wordsforthewild.co.uk. Poems should be a maximum of 40 lines.
Please send up to 2 stories as a single Word document attachment to submit@wordsforthewild.co.uk. Stories should be a maximum of 1,000 words.
Use JUNGLE as the subject of your email.

Closing date for the theme will be 21st September but send early because we will begin publishing work on the website in June 2019.

We are happy to take previously published work.
We are, of course, still open to general submissions and our Spring Theme 'Streams' will remain open for submissions until the last few spaces are filled.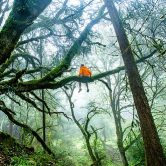 About
Our second seasonal theme is 'Jungle'. We would love you to send us poems, stories or creative constructs of your own, a selection of which will form a separate 'Jungle' strand on the website.
The brief is open to tropical jungles, urban jungles, historical jungles, the jungle wasteland, the jungle at the bottom of the garden, the jungle in your head.
Don't forget the animals and all the activities that can go on in jungles past and present.
Take the theme as literally or as abstrusely as you wish. The word 'jungle' does not need to be mentioned and jungles, as such, do not need to be the subject of the poem.
We really look forward to reading.
Below, for your entertainment, are quotes from poems that reference 'Jungles' in one way or another. We hope to add a few more. Do feel free to send us any suggestions.
Lady, your room is lousy with flowers.
When you kick me out, that's what I'll remember,
Me, sitting here bored as a leopard
In your jungle of wine-bottle lamps,
Velvet pillows the colour of blood pudding
And white china flying fish from Italy.
from
139 So intertwined with serpent-kin encoiled
140 Among the purple tufts, the scarlet crowns,
141 Scenting the jungle in their refuges,
142 So streaked with yellow, blue and green and red
143 In beak and bud and fruity gobbet-skins,
144 That earth was like a jostling festival
145 Of seeds grown fat, too juicily opulent,
146 Expanding in the gold's maternal warmth.
from